Used Nordson 180 Foam Melt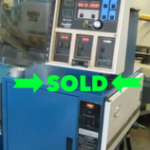 This used Nordson 180 foam melt is completely rebuilt by Mectec Packaging Machinery.  It is in excellent working condition.
THIS MACHINE HAS BEEN SOLD.
FoamMelt methods use a patented procedure to foam hot melt adhesives for form-in-place gasketing applications, swapping costly and labor intense die-cut and foam-tape gaskets.
This machine can:
Minimize materials and expenses as significantly as sixty five percent by increasing adhesive open time and volume.
Enhance effectiveness with automated control technique.
Boost product quality with pinpoint temperature control for constant adhesive viscosity.
Reduce VOC emissions with solvent-free assembly.

If you are looking for a used Nordson Foam Melt or any other used packaging machinery then call Mectec Packaging Machinery today! (905)878-8897