Used Hot Melt Machine | Nordson 506 for PUR or PSA Hot Melt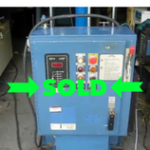 Hello and welcome to Mectec Packaging Machinery.  Today we're going to be looking at a Nordson 5 Gallon Pail Melter that we have for sale. It is a used hot melt machine. The machine is in excellent condition and is ready to use. Clean inside and out, she works like a charm and is ready to handle any job that you can throw at her.
THIS MACHINE HAS BEEN SOLD
The specs on this model, the Nordson 506, are as follows;
She has a 5 gallon capacity with a concave platen.
Is 240V and 3 Phase.
She has a single Hose Gun Connection.
She has a DC drive motor.
She is Variable Speed.
She is designed for Moisture Carrying polyurethane.
She is designed to be used for PUR or PSA Hotmelt.
If you purchase this model, which is in excellent working condition and is very clean from top to bottom, here at Mectec Pacakging Machinery we can also provide you with all the components that you may need to use her such as Nordson brand hoses, guns, filters and anything else that you might need for this excellent pail melter. While she might not be the most glamorous girl at the dance you can rest assured that she will get the job done.
The fact is, here at Mectec we take pride in the used machines that we sell. All of the machines that we sell are immaculate, inspected by us before being put up for sale, and guaranteed in great working condition.
If you're in the market for used packaging machinery that you can depend on and a company that's reliable and fair, Mectec is that company. We specialize in use packaging machines and our customer service speaks for itself. (Usually in a very soft, calm voice.)
Please call with any questions about the Nordson 506 or any other machines we have in stock. Thanks for looking and have a great day.