Used Hammer Mill For Sale | Apex Model S Hammer Mill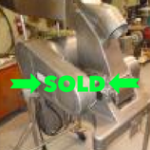 Metec Packaging Machinery has a used hammer mill for sale.  This hammer mill is by Apex Process Technology.
THIS MACHINE HAS BEEN SOLD
Apex Process Technology is a global leader in the design,style and manufacture of process equipment. As pioneers of high efficiency devices in the powder processing area, they create, manufacture, market, and support merchandise to the laboratory, pilot plant, and manufacturing departments for numerous businesses throughout  the globe.
Hammer Mill is a significantly less financial investment for a rapid  process manufacturing line. This collection of products have qualities of small size,light weight, basic construction and effortless operation and upkeep.  They have a large crushing ratio, even granularity of product  and a higher manufacturing capability.
Hammer Mill has a fairly easy style and design with additional simple component replacement. It is capable to complete medium to fine crushing work  on a single unit basis. By opting for the roller bearings, it has a sleek operation with relatively modest power usage.
Hammer Mill Features:
Materials are decreased by impact from free-swinging bar hammers.
Finished item dimensions managed by grates or screen dimensions.
Materials can be decreased to granular powder at higher rates.
Heavy-duty cast-iron or carbon steel design}.
Easy accessibility} for servicing and screen/grate changes
This Used Hammer Mill is a Model S machine. It has a Pan fed hammer mill with swinging hammers. Hammers have knife on 1 end and it is  blunt on the other. It comes with a reversible commuting chamber and it is on casters.
If you are looking for a used hammer mill or any other used packaging equipment, then call Mectec Packaging Machinery today! (519)787-8740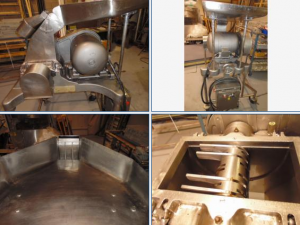 .