Used Foam Melt Machine | Nordson FM 131 Used For Gasketing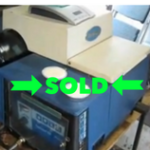 Mectec Packaging Machinery has a foam melt machine in outstanding operating condition.  The Nordson FM 131 was employed in the gasketing sector for windows, doors and pails.  The video clip demonstrates to  you the device operating and the variation in weight of the adhesive after it is injected with nitrogen.
THIS MACHINE HAS BEEN SOLD
When you buy this machine, which is in outstanding working order and is extremely clean, from Mectec Pacakging Machinery we can also supply you with all the parts that you may possibly require to use her.
We specialize in  Nordson refurbishing, rebuilds,repairs and parts,  We also sell used packaing machinery and equipment.
The truth is at Mectec we get great satisfaction in the used packaging machines that we offer. All of the machines that we promote are immaculate, inspected by us prior to becoming listed by us for sale. We guarantee it is in great operating order.
If you are in the marketplace for a used foam melt machine or any other used packaging machinery or equipment. Then Mectec Packaging Machinery is the business you can rely on which is also reputable and reasonable.  Call Mectec 519-787-8740 today!