Used Checkweighers | Cintex Eclipse CS 2200 Inline Checkweigher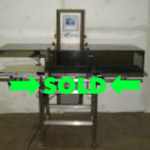 Manufacturer: Cintex
Model: Eclipse CS 2200
This Inline Checkweigher is only good for parts.
THIS MACHINE HAS BEEN SOLD
All stainless steel. Includes three belt zones: indexing belt, weigh belt and reject belt. All 21.5″ long x 15″ wide. Pneumatic sweep reject system for over/under product. Last weighing frozen pizza. Calibrated weight 100.0g. Machine length- 66″. Max. Belt Speed- 60m/min. 3 kg capacity (3000 grams) providing weight accuracy levels of /-0.5 grams, even at high line speeds. Infeed conveyor- 21.5″ long x 15″ wide. Conveyor over load cell- 21.5″ long x 15″ wide, Exit conveyor-  20″ long x 15″ wide. Last used to weigh pizza's.