Overwrappers | Marden Edwards Overwrapper LX100LH/7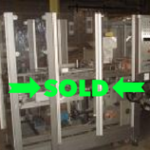 THIS MACHINE HAS BEEN SOLD
Manufacturer: Marden Edwards
Model: LX100LH/7
Year- 2004
Product is fed into collator, then collate 3 packs of sticky notes, then onto the overwrapper to be wrapped.
Can wrap with envelope type seals on ends of package.
On casters with height adjustable feet. Also has fork holes for moving the machine.
220 volt, 3 phase, 60 hz, 3 KW/ Air- 304 bar/ earth 1
Collator shares model & serial number of overwrapper.
Approx. 35 ppm.