Hot Melt Glue Machines | Used Uniflow Drum Melter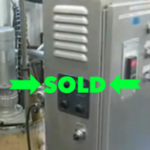 Mectec Packaging Machinery specializes in refurbishing rebuilding and repairing used packaging machinery.  We currently have a hot melt glue machine which  is a used Uniflow drum melter.
THIS MACHINE HAS BEEN SOLD
This  Uniflow 55 gallon drum melter which has been modified and totally rebuilt and repainted. The 5/8 ths inch hose is brand spanking new and presently holds temperature at 395 degree levels.
This Uniflow drum melter heats flammable liquids in fifty five gallon drums under closed circumstances reducing solvent evaporation. It melts solvent based resins and polymers for immediate delivery to batch mixer or process piping.It also processes polymers with viscosity up to two million cps.and is  perfect for melting resins utilized in carbon fiber composite manufacturing.
If you are looking for used packaging machinery give Maik(spelt funny but sounds like Mike) at Mectec Packaging Machinery a call or visit our websites http://UsedPackagingMachineryForSale.com or http://Mectec.ca .
We look forward to saving you money!